FemDom cock tease scene – Handy Man Wait Time – Part 1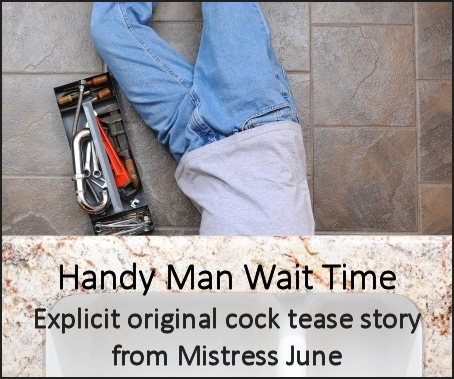 FemDom cock tease role play scene – Part one of three
Scroll down to hear the free podcast of this post.
Last Friday the pipe under my sink started leaking and I called the local handyman, John, to come help me. He was booked for three days and this could not wait, so he suggested I let his nephew, Brian, come by to help. John said, "The problem sounds like an easy fix and Brian can handle it. He is a nice young man just getting his own handyman service started, I think you will be pleased." I needed things fixed fast, so I called up young Brian and set an appointment for him to come by in an hour.

Brian was late. Really late. Two hours late. And from his condition when he showed up, he either lost track of time at the gym or he was "recreating" because he was flushed and sweaty when he made his apologetic appearance. I was really pissed. I couldn't take phone sex calls knowing they might be interrupted at any moment by the plummer, so I was losing income and patience while I waited for him. He said he was sorry, but he did not seem to understand the gravity of his long delay.
My young handyman got right to work and was quickly flat on his back under my sink, which left his noticeable bulge to be freely ogled. Apparently, I was not the only one ogling, though. Apparently, Brian had a good view from his vantage point, too, because his bulge was growing. I think my presence right there was making him uncomfortable because he asked, "Did you need something, Ma'am?"

Well, I did need something, actually.
And I had a feeling about Brian.
I kicked off my black 4″ patent leather pump and rubbed my stocking-ed toes up the inside of Brian's thigh all the way to his clearly engorged cock. "Yes," I said. "I need something, Brian. How about you? Do you have needs?"
(Click here to read part two.)
***
That is the start of a very fun phone sex role play scene.  If you are over 18 and wish to explore this scene in greater detail, please email me to arrange a call or dial 1 (888) 557-0355. 

The extended version of this story is now available!  Yay!  I made a recording of this entire story including scenes not shared in the blog/podcasts and you can purchase it now on Niteflirt using this button.  This is not a pieced-together rehashing of the podcasts, I made a fresh recording of the entire story from beginning to end with additional explicit details.  I think it might be my most fun audio to date.  :)  If you prefer to buy it from me directly, let me know.

Goddess June
(And here is the FREE corresponding podcast for this blog…)
Podcast: Play in new window