Goddess worship phone sex role play scene – FemDom salon

Here is the set up for a fun FemDom role play scene featuring Goddess worship: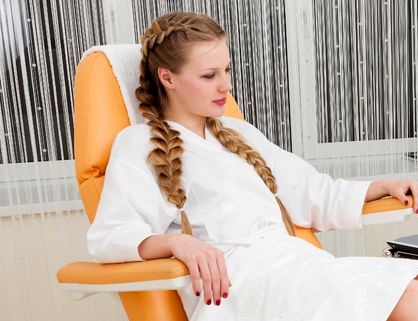 I have opened a salon in a large progressive city.  My shop, June's Goddess Salon, targets wealthy and powerful women by promising an unparalleled spa experience that is guaranteed to leave them feeling renewed and ready to conquer the world.
When a client arrive at my beautifully appointed luxury salon, she is shown to her private room and given a menu of options.  I explain that all services are included in her spa day and she may utilize whichever options appeal to her at no additional charge.  Her experience should be personalized and deeply fulfilling.  I have her sit in a specially designed chair and explain the different positions for the backrest, headrest, armrests, and pivoting leg rests.  I lay out the silk gown she will wear for the day.  And, finally, I bring in her attendant.
Each guest is assigned an attendant.  Personal attendants do not provide spa services, we have highly skilled professionals that provide hair services, nails, massages, etc.  Personal attendants are there to ensure personal comfort and relaxation.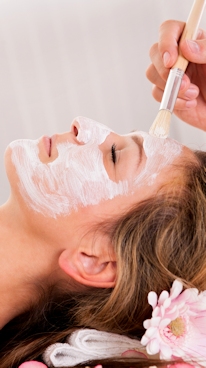 I am very direct with each client when I explain that human sexuality is a powerful force that today's busy career women too often neglect.  And I add that our discreet attendants are well trained in providing intimate pleasure.  I tell my guests there is nothing to be ashamed of.  We are all adults here and we understand these needs.  But to make them more comfortable, guests may accept these special services without making specific requests.
I explain…
"Your attendant will never speak to you unless you ask him a direct question.  He (or she) will never make eye-contact unless you request it.  Your attendant will sit silently in the corner and only approach when you wave them over or when you adjust your chair or tray table.  If you move your table into position 1, for instance, your attendant will come and pick up your order for refreshments and return with the food and drink items you request.  If you put your chair in position 4, for instance, your attendant will come and provide foot worship.  If you put your chair in position 8, your attendant will crawl under your gown and provide intimate attention.  Please be aware that attendants are trained to provide oral attention to all exposed areas.  This means if you set the leg rests to their widest position, your attendant will provide stimulation to your anus as well as your vagina.  If you have never tried this, I encourage you to have an open mind.  True and complete worship is an amazing experience.  The provided menu explains all seat and tray table positions and corresponding services."
Personal attendant all wear simple white robes and I always explain to guests that our male attendants are completely submissive and obedient.  I always open the attendant's robe to show my guest that he is wearing a chastity cage that prevents arousal.  "He is here only for your needs.  Please make use of him."
Attendant may provide requested services while guests are also enjoying a massage or facial.  Or guests may request to be left alone with their attendants for as long as they like.  All salon options are included in the spa day package and may be scheduled using our discrete app on the ipad in each room.
***
That is the beginning of a very fun phone sex role play scene.  If you are over 18 and wish to explore this scene in greater detail, please email me to arrange a call.  I also have a new audio available now where I train attendants who wish to serve in my salon.  This explicit audio is $10 and it is a lot of fun.  It's available on my audio page and on NiteFlirt.  Here is the buy-now button…


Goddess June
(And here is the FREE corresponding podcast for this blog…)
Podcast: Play in new window