Small penis humiliation phone sex scene for the Holidays – Santa's Littlest Helper
This is a small penis humiliation role play scene I created for the Holidays. I have SO MUCH FUN with my sph callers. You guys are so silly and adorable. How you managed to turn your shortcoming into a small penis humiliation fetish is beyond me, but I love to laugh at/with you. This particular scene was created for my fabulous fun caller, dinky, and he happens to be a little pain freak, too. So this scene has some cbt (pain play) for him. My little dinky made me some images for me for the Holidays and gave me permission to share them here, but because some of you are squeamish about pain and graphic photos, I'm asking you to click on the altered images if you want to see the actual pictures.  These pictures from dinky inspired this scene.
Santa's
Littlest
Helper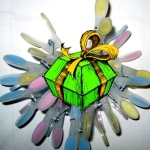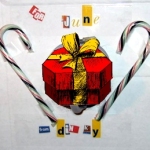 I invited a few friends over for a small Holiday gathering. Nothing too elaborate, but my friends did arrive beautifully dressed in sexy festive attire. My little dinky was serving drinks and I did not want him embarrassing me with his ever-present little erection, so I put his chastity cage on. He gets so easily excited that I had to help him stay focused on serving.
As the evening progressed and we had all had a few drinks, my friends were getting playful. One of them demanded that dinky pull down his red and green panties and show everyone his cage, which he dutifully did. The girls were fascinated by his minuscule member. They could not believe that he was SO SMALL that his teeny peeny did not even fill the chastity cage!
I heard all the giggling and came over to see what they were up to.
They were having so much fun teasing him.
I suggested, "Maybe it is time to unleash the beast
and take his little dicklet out of the cage for some party games?"
My friends eagerly agreed, so I took "little dinky" out of his cage and then I gave each of the girls a few clothes pins and some Holiday decorations. He he he…..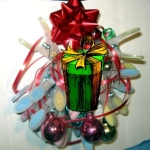 We had so much fun decorating little dinky!
At the end of the night, my friend's boyfriend came to pick her up and he cringed. He could not believe what we had done to dinky. But then he laughed when we took the clothes pins off and he saw little dinky standing at attention because dinky loved the pain.
If you want to hear how the party ended with my silly dinky on his knees proving his devotion, you will have to give me a call.
Ho ho ho,
Go

d

dess June
PS:  Thank you for the fun photos and great calls, dinky!
(And here is the corresponding podcast…)
Podcast: Play in new window